MY HOME SARASOTA
WE HAVE THE POWER TO MOVE YOU!
Scott and Lisa Rickards are committed to providing an accessible website. If you have difficulty accessing content, have difficulty viewing a file on this website, or notice any accessibility problems, please call us at 941-356-7040 or Scott@TeamRickards.com to specify the nature of the accessibility issue and any assistive technology you use. Scott and Lisa will strive to provide the content you need in the format you require.
SEARCH THE MLS - CLICK HERE FOR FULL ACCESS OF PROPERTIES

SARASOTA, FLORIDA
Today Show Ranks Sarasota as 2nd Most Booming City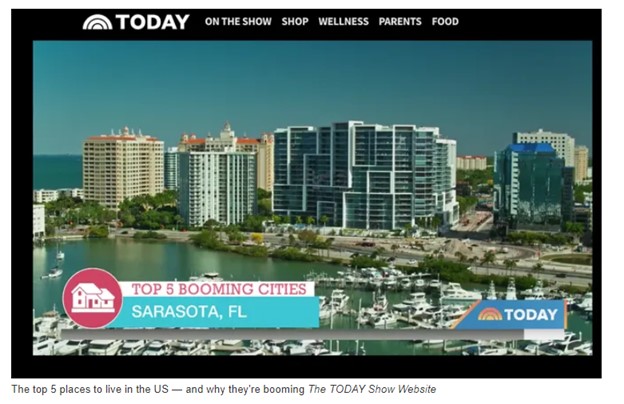 Sarasota Herald Tribune by Samantha Gholar, July 10, 2023
SARASOTA — Daytime television show "The Today Show" has named Sarasota as the second-ranked place to live in the U.S.
According to the July 10 ranking, released by Frances Katzen, a real estate broker with Douglas Elliman, Sarasota ranks just behind Round Rock, Texas, a suburb of Austin, for the most growth and is one of the top five "booming" cities in the United States this year.
Criteria such as schools, cost of living, outdoor life, job security, and growth and development each contributed to the quality of living for residents choosing to find a spot to live post-pandemic Katzen said.
The full list of the top five best places to live in the U.S. is



Round Rock, Texas




Sarasota




Tacoma, Washington




Bridgeport, Connecticut




Raleigh, North Carolina



The Monday ranking of yet another 'top list' for Sarasota follows several other recent rankings for the city of Sarasota and the surrounding area as one of the most desirable places to be in the country. U.S. News & World Report has listed it as one of the top places to retire for several years.
---
Sarasota has a distinct vibe that's different from Florida's relative coastal cities, with its own vibrant arts scene, beachy atmosphere and burgeoning food culture. People who choose Sarasota as their home are generally called by its unique charm. This metro area of just over 800,000 people has a renowned opera house, a number of rooftop bars and the popular beach of Siesta Key. What makes the region special is its duality – downtown Sarasota boasts resorts and fine dining, but strolling Siesta Key Village or St. Armands Circle offers a more intimate, seaside ambience.
There was once a time when Sarasota was dismissed as a playground for retirees, but that reputation is slowly changing as more young professionals begin to make it their own. One of the city's up-and-coming neighborhoods is the Rosemary District, where eclectic murals decorate storefronts and modern condominiums and hotels sit near casual breakfast cafes.
U.S. News analyzed 150 metro areas in the US to find the best places to live based on quality of life and the job market, as well as the value of living there and people's desire to live there.
WELCOME TO SARASOTA
White sand beaches, sophisticated arts, world-class shopping, five star resorts, country clubs of distinction, legendary fine dining and community events coupled with the areas natural beauty and year-round good weather are just a few reasons that Sarasota ranks among the nations 15 most livable communities, according to Money Magazine. Located on South West Florida's Suncoast, the Sarasota area is a paradise unto its own.


Need help finding your Sarasota Dream Home? Just tell us what you are looking for and we will search all of our sources and provide you with a convenient report of all the properties that you may be interested in complete with photographs of the properties and detailed neighborhood information.
Here you will find a wide variety of useful information and resources designed to help you buy or sell a home more effectively in the Sarasota areas. From information on the local community, to advice about finding a mortgage or preparing your home to sell, it's all available here on this web site.


So whether you're buying or selling, feel free to contact us and we will be happy to help you with all your real estate needs.
---
Search the MLS and Find Your Home: Millions of Properties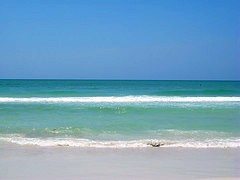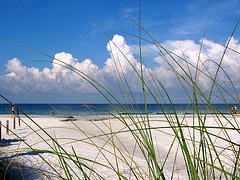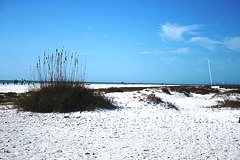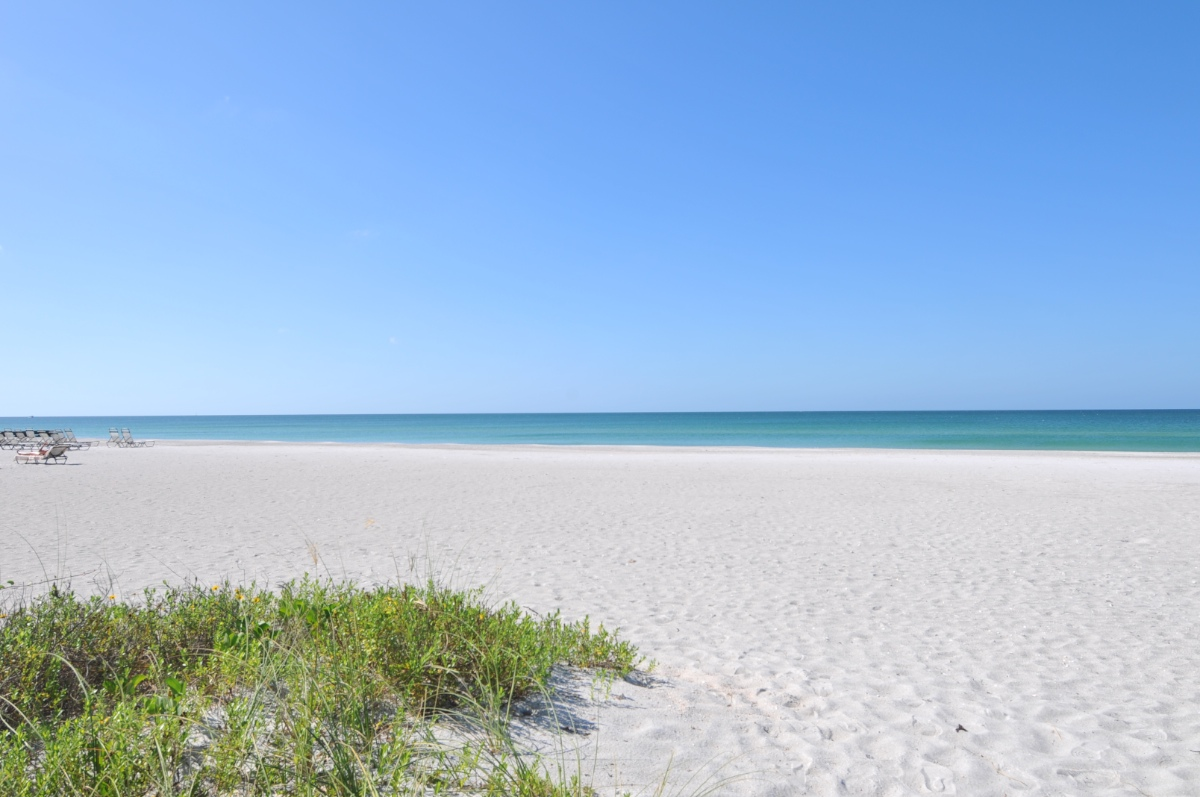 Siesta Beach in Sarasota #1 in Nation
on list by 'Dr. Beach'
Siesta Key's fine quartz sand is one of the primary attractions of its beaches.
The powdery white shoreline of Siesta Key just got the ultimate seal of approval from "Dr. Beach." Siesta Beach was ranked No. 1 in the nation today in the annual survey by Dr. Stephen Leatherman, director of the Laboratory for Coastal Research at Florida International University.
"The Sand is like Sugar," Leatherman said. "Some people can't believe it. It is super soft, super fine. They claim to have the finest, whitest sand in the world, and I can't argue with that."
For the past two years, Siesta was ranked No. 2 in the survey. Now local tourism officials can boast of the top spot.
"This is absolutely the best thing we could ever hear," said Virginia Haley, president of the Sarasota Convention and Visitors Bureau. "We know we'll be on national TV in the morning. Live shots across the country."
On Thursday afternoon, visitors to Siesta weren't surprised by early news of the No. 1 ranking.
"Every time I see it, it's like the first time," said Shelley Harman of Dayton, Ohio. "The sand is like powdered sugar under your feet. And it's clean and the water's clean. It's just awesome."
A dozen tourists from Buffalo raved about Siesta, too. They're staying at a beach hotel in Clearwater, but still made the drive down to Sarasota. "We told our friends, we're going down to Siesta Beach," said Dennis Walczak. "That's the top of the line."
Once a beach reaches the top of the list, it is retired from future rankings.
Leatherman ranks beaches on 50 criteria, including water quality, weather, facilities and crowds. A top score is 250.
Siesta Beach came in at 230s, losing minor points because the view is heavy on condominiums to the north and south. It got credit for free parking, along with shallow water and gentle surf.
"Most days you measure waves over there in inches, not feet," Leatherman said.
Scott Montgomery, interim lifeguard manager for Sarasota County, spent more than 20 years at Siesta Beach. He always knew it was special. The No. 1 ranking just confirms that fact.
"It's about time," Montgomery joked. "I've seen a lot of beaches, even beaches in Hawaii, and they just don't compare."
The 40-acre park at Siesta offers everything from tennis to beach volleyball courts, along with a snack bar and gift shop. The beach at Siesta is more than 100 yards deep — far wider than most beaches in Florida or anywhere else. Thousands of people can spend the day without feeling crowded.
"Known for its 99-percent pure quartz sand and easy-going atmosphere, Siesta Beach provides beachgoers with a variety of activities and amenities," says VisitFlorida, the state's PR organization. Leatherman says "Siesta Key with some of the finest, whitest sand in the world, this beach attracts sand collectors from all over. Siesta Beach has clear, warm waters that serve for ideal swimming. The beach is hundreds of yards wide in the shape of a crescent, due to anchoring of onshore rocks to the north and a unique underwater formation of coral rock and caves, providing for great snorkeling and scuba diving. This beach is great for volleyball and other types of recreational fitness."
The group adds that Siesta has "tennis and volleyball courts, shaded playground and picnic area and convenient concession stands. Gentle waves and shallow water near the shoreline, along with year-round lifeguard protection, make Siesta Beach a perfect family beach destination."
---
TidBITS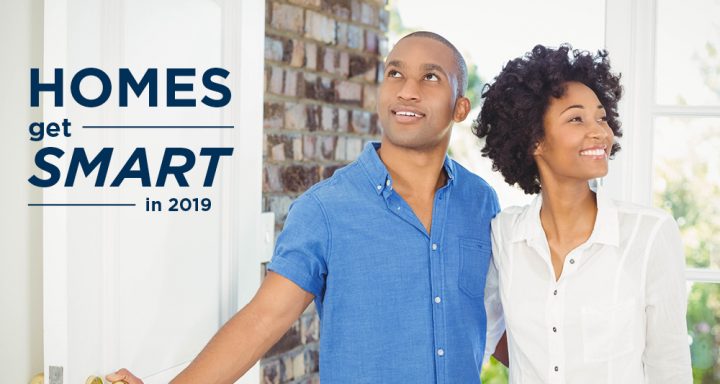 Is Your Home Smarter Than You? By Jason Lindaman, Senior Manager at RE/MAX World Headquarters
How smart is your home? In 2019, it's possible your house is smarter than you. Designed to provide energy efficiency, security and comfort conveniences, the smart home can do it all on command. Control lighting, heating, cooling, appliances, televisions, computers and other security features with smart technology that communicates with each other and can be remotely controlled via a smart phone or online. Internet connectivity and cloud storage makes all this smart home technology possible by bringing convenience and electronic intelligence right to your fingertips. If you're technically-challenged, don't worry – we suggest starting small to go big with technology with three easy technologies to make your home smarter this year.



Set Smart Temperatures



Most thermostats only read the temperature in one area (usually the hallway) which can make other rooms too hot or too cold. Technology like ecobee4 or Nest comes with room sensors to help manage hot or cold spots. When sensors are placed in the most popular rooms, the smart gadget can read the temperature, detect occupancy and adjust the temperature so it's just right.



Sensing Leaks



Smart leak detection sensors monitor your home's plumbing with the purpose of discovering leaks and malfunctions. They can assist you in preventing water damage and the growth of mold and mildew inside a wall due to a slow leak.



Open and Shut



If you have ever left home for the day or, even worse, been on vacation and suddenly you're unsure if you left the garage door open – a smart garage door opener offers convenience, improved home security and peace of mind. Check the open or closed status of your garage door via an app on your smartphone as well as open it or close it remotely – in other words, it's possible to be on the other side of the Earth and still control your garage door.


It is finally here. A website providing real time traffic information on major roadways from Englewood to Parrish. All you will need to do is click on the blue camera icons to check on conditions and determine the best route in advance. We recommend using this website prior to your departure and not while driving. Just in time for our Snowbirds to hit the roads! Click here for link to Smarttrafficinfo.org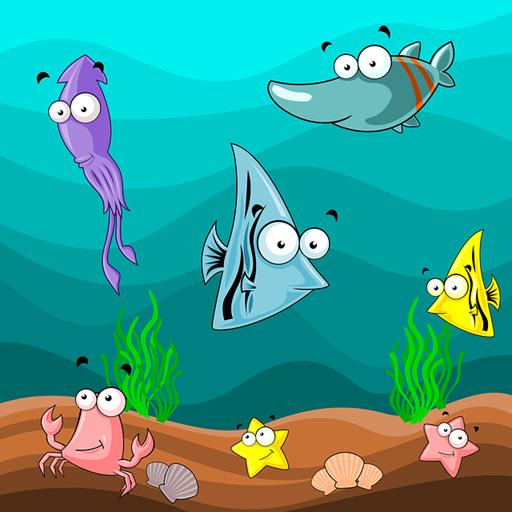 Shellfish, like clams, oysters and scallops remove nutrients, clean the water column and provide food for a host of other organisms. The Sarasota Bay Watch is working to repopulate our waterways with shellfish. We can all do something to raise awareness, add more life to the bay and to protect wild habits where nature thrives.
Whether you're looking for your first home, your dream home or an investment property, we are committed to providing you with the highest quality buyer service. When making the type of investment that buying a home requires, you deserve to have all the latest market information and the very best advice, both of which we can provide you with. Read more.
The decision to sell a home is often dependent on many factors. Whatever your reasons are for selling, our proven effective marketing strategies will ensure that you get the highest possible price for your home. We guarantee to provide you with professional, ethical and confidential service and keep you fully informed every step of the way. Read more.